UX/UI Design
Contents: Duong Nguyen
Conceptualization: Duong and Jude
PRODUCT
Venmo is the app that supports online transactions by using mobile devices and increases social networking interaction between users. Venmo helps to solve the issue of daily payment between people in the cashless and technology era. In term of user experience, Venmo did an excellent job of optimizing all the current needs of users in daily matter.
However, after we did few interviews and survey, there are few major pain points that can be addressed further.

PAIN POINTS
To identify the pain points, we started the project with interviews and surveys. Different types of user were participated in our interviews. The scenario was scripted to test: "A group of friends goes to a restaurant. They enjoy the meal, and the bill was given to them. Server tells the group that they can't split the bill. One person pays the check then everyone Venmo that person."
After this stage, some standing out paint points are:
Payment requires a lot of steps

The social feed is unnecessary

Transferring the user's Venmo balance to their bank accounts is difficult to find
Research
To understand the core of our users' problems, we did different types of researches:
1. Company Background Research

"Venmo was first founded by two college students Andrew Kortina and IqramMagdon-Ismail from the University of Pennsylvania. Their first prototype of Venmo is via text messages. It later was bought by Braintree for $26.2 million, and was acquired by Paypal for $800 million in 2013. Their vision of Venmo is a digital wallet."
2. Target Demographic
The biggest user demographic of Venmo is millennial because millennial more likely adopt mobile payments than other generations (80% smart phone owners are millennials). Venmo understands the spending habits of young generation. About July 2017, Venmo has near 10 million unique monthly users which comprised of 74% users under the age of 35. The functional platform associated with social media appeals younger demographic as millennial the most.
3. User Journey Map
Early on this stage, Payment and Bank Transfer will be our focus. We did not try to solve the social feed on Venmo because after researching, the social feed is an attractive feature making Venmo distinct.


Paying someone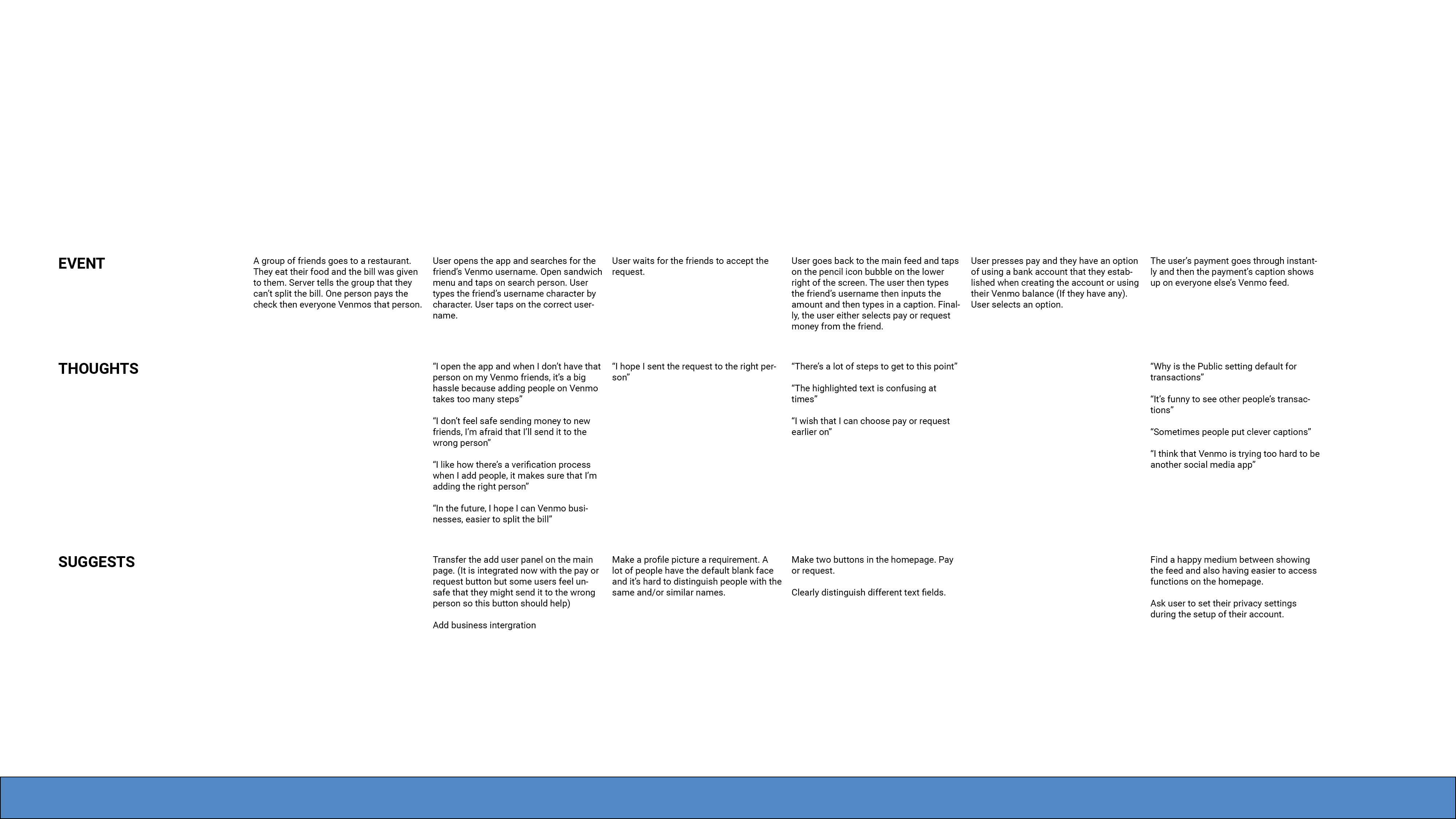 Transfer to bank account
4. Survery
We created a Google Form to research the users of Venmo which can be found on this
link.
Main Take-Aways
"Who are our users?" – Millennials 18-25
"How would you describe your friend group?" – College students
"What would you change?" - Make Venmo easier to manage and to use. Navigation is confusing.
Solutions
From users' testings and the survey that we sent out to Venmo users, this is what came out as the potential solutions:
Payment: "Make two buttons in the homepage. Pay or request. Clearly distinguish different text fields."

Social Feed: "Find a happy medium between showing the feed and having easier to access functions on the homepage."

Bank Transfer: "Make a dedicated button for this frature rather than just having the text."
Argument
We did realize that our solution is redesigning Venmo interface. We questioned ourselves what we could do differently to make the transaction even faster and quicker.

1. Brainstorming

The research process notably helped us brainstorming our goals and further directions. We got a solid idea and just started sketching. During this phase, we decided to create an extension for the paying process and called it QuickPay. This was a scan a code to pay process.


"QuickPay is the idea using QR Code to create the transaction right at the moment."

If two user want to process a payment in a same space, QuickPay will push the performance even faster than the traditional way. Person who pay simply press QuickPay button, input amount, and scan instant BR code from another who receives money.
2. Visual Concept

The current interface design is overall flat and outdated. Since the main audience are millennials, we want to represent the youth culture. We took into consideration of many graphic trends and fads. Our new interface design will be fluid and minimal.

3. Prototypes

We developed the paper prototypes. The paper method helped us fix error in users testing and visualize the final interface design.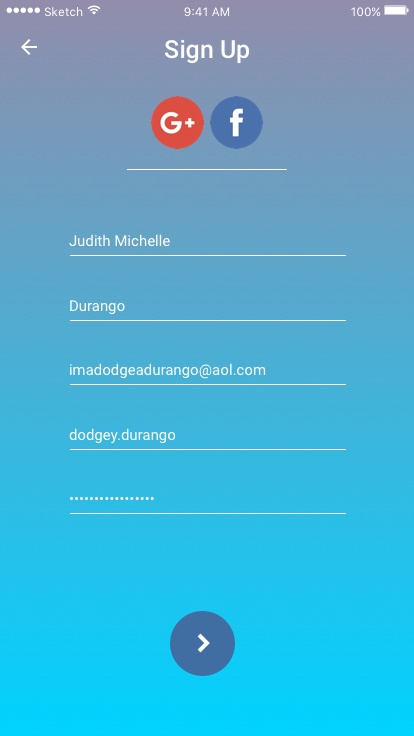 click to play slideshow
Final Product
After the final testing of the prototypes through InVision, we tweaked all the little things and settled with a final design


"Venmo's QuickPay and the new navigation will give users the better experience."
for full study case, click here
---
---