Seattle Urban Art Festival
Brand Identity, Web Design, UX/UI
Part 1: Branding
"Seattle Urban Art Festival" is an culturally artistic festival where hundreds of urban street artists come to showcase their art. These artists sell their work and create art during the festival either for sale or for fun. People can go to walk around and watch artist create their masterpieces, purchase artwork/supplies, and enjoy the atmosphere of urban art.

Mood board
Keywords
Creative

Personal

Inspired
During researching for inspirations, I have noticed that many identity systems for art events include organic and abstract elements.
My mood board is a collection of poster that (I think) successfully deliver the message and evoke emotions that my client wants. It is easy to see there are a lot rough details on my mood board like old photo, dust, randomly typography, and organic details .
Sketches

Final logo and variations
I used essential colors like black/white/grey. I believe they are the canvas for any creativity, then I added bright red as an accent color because urban art is rebellious art.

Multi-dot pattern conveys the ideas of being different and innovative. Every dot is different from each other.
Brochure (outside: left - inside: right)
Final poster
Part 2: Website

Statement
Website only needs to be enough: ENOUGH INFORMATION and ENOUGH VISUAL. It should give users an ability to browse and collect contents without hesitation.

The appearance of website should represent the urban art mood and interesting graphic elements.

KEEP IT FUNCTIONAL, KEEP IT ART

Content Outline & Sitemap
The mood board is what I expect the final website to look like. SUAF's identity system have a large negative space, brushy typeface, distinct hierarchy, and playful elements. The website will be built based on these characteristics.Contents will be organized on the basic grid but not as heavy as the competitive websites. I hope when users look at my website, they will feel refreshing, excited, relief, and spacious.

Sketches



Final Website
Final website includes three pages: main page, ticket, and speaker as long with mobile version.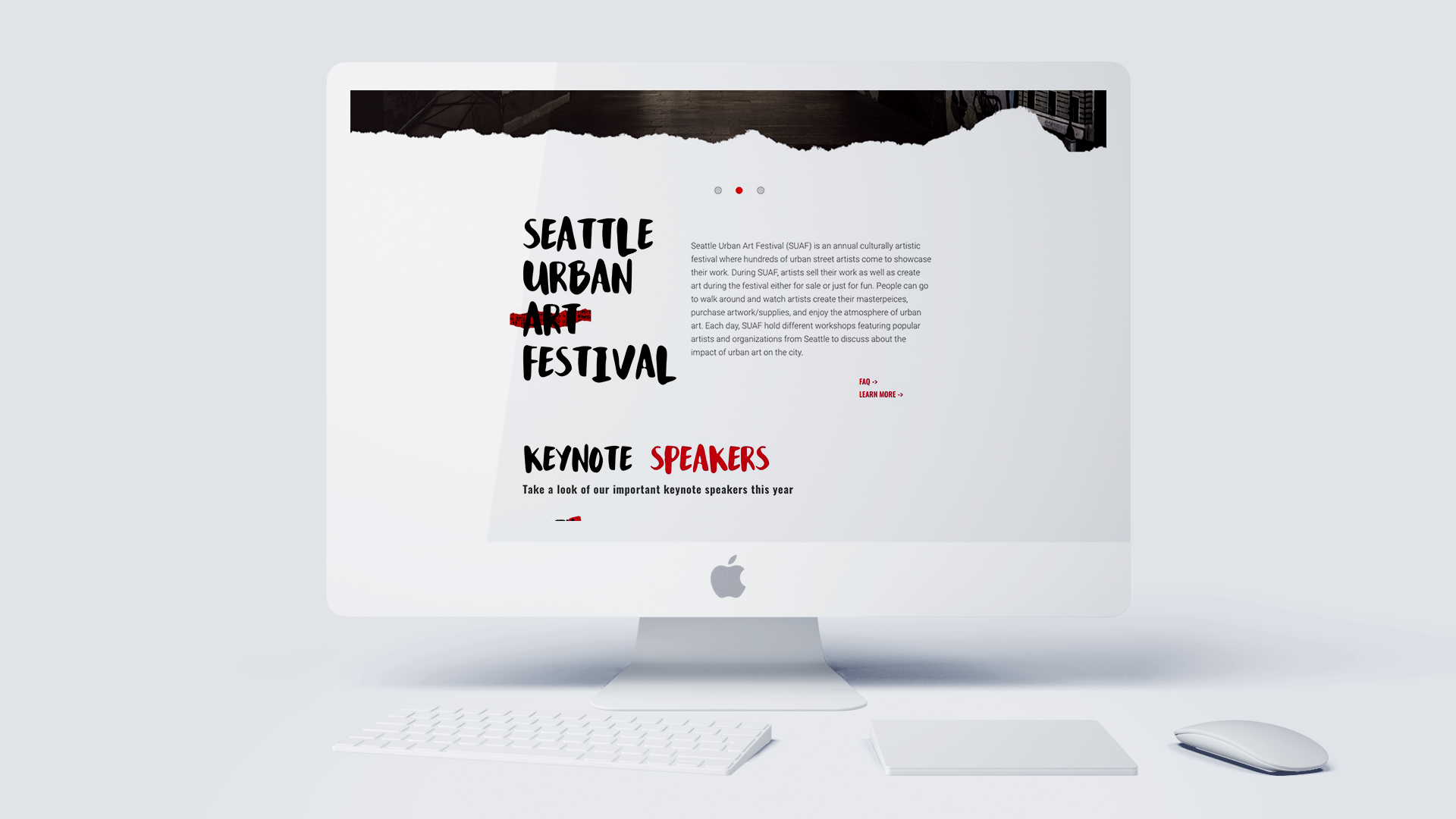 Main page
Tickets
Keynote speakers
---
---