National Film Preservation Foundation
Brand Identity, Web Design
The National Film Preservation Foundation is the nonprofit organization created by the U.S. Congress to help save America's film heritage. They support activities nationwide that preserve American films and improve film access for study, education, and exhibition. Their top priority is saving American films that would be unlikely to survive without public support

Important message:
"Encourage, accept, and administer private gifts to promote and ensure the preservation and public accessibility of the nation's film heritage"


I began this project by researching about the organization, a heritage film industry and its current language . I carefully looked at small details on different medias from the golden era. One thing I kept in mind is that the organization's vision does not need to go back to retro or vintage feel. They collect and maintain the films for future access and history preservation. All the retro/classic details will be used to enhance the modern feel for the brand which will create an appealing combination llike a trendy outfit complimenting with retro accessiores.
While brainstorming logo mark, I worked around the filmstrip symbol. Filmstrip is a familar item representing film industry to different type of audience. I tried to conceptualize filmstrip into different themes with many unconventional ideas.
BRANDING
Logo
The new treatment continues to embrace the filmstrip symbol with more precise execution. One filmstrip contains multiple frames run along its body which can be viewed both horizontally and vertically. The endless movement of filmstrips creating film to tell a life sotry is inspired me to develop this concept more.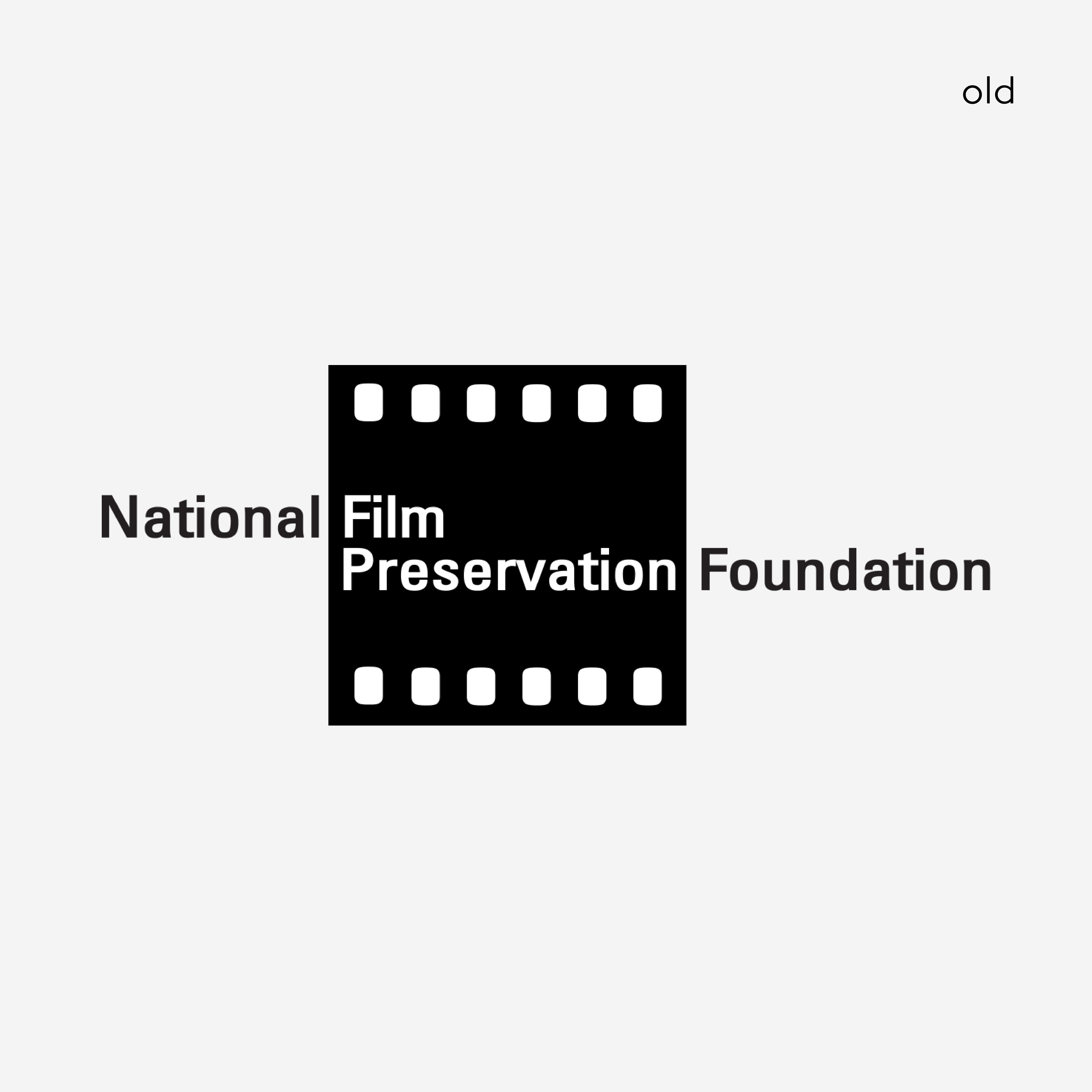 Logomark
Word/Logomark

Grid Treatment
From experiment with the usage of filmstrip, I created the special grid that can be innovatively used in multiple medias. The new grid treatment is built based on the layout between each strip on the background. I firstly placed filmstrip on a canvas and then drew out the guides according to the alignment of the strips' components. With this system, typography is erestingly arranged with high level of adaptability. The grid treatment also indirectly show the structure of filmstrip in printings.

Logo Adaptability
I am really inspired the adaptability of Library of Congress's logomark done by Pentagram. Their logo has a lot of potential to adapt image and video then create new variations. I have took this ability into consideration while developing logo for NFPF. Drawing inspiration directly from the actual real filmstrip, a motion happens when operating filmstrip in movie projector. I treated the space between its perforations as replaceable frames which I can input images, texts, and videos for more interesting variations.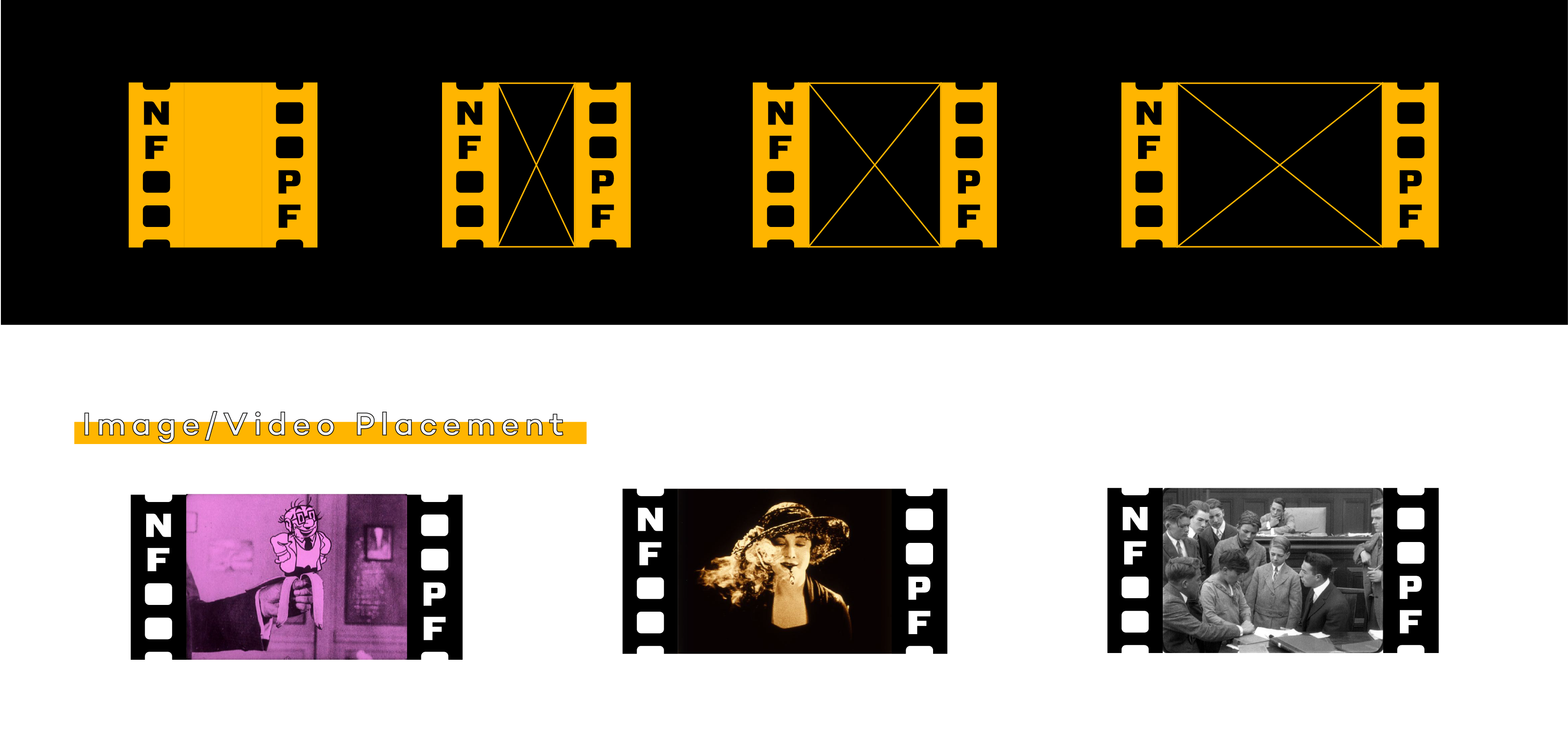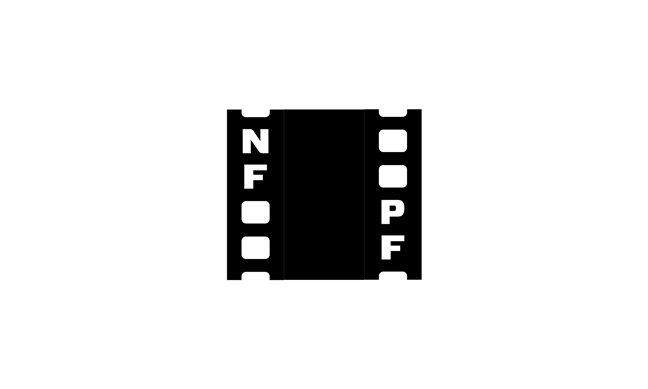 Below Zero (1930)

Bruce Lee (1972)
Hot Saturday (1932)
BRAND EXTENSIONS
Below is an example of the identity system when using in different application.
The use of this system is the combination between these graphical elements introducing above: logo movement, logo adaptibility, grid treatment, and pattern. Some general rules need to be followed to show the advantage of new concept, but always open for more expriments.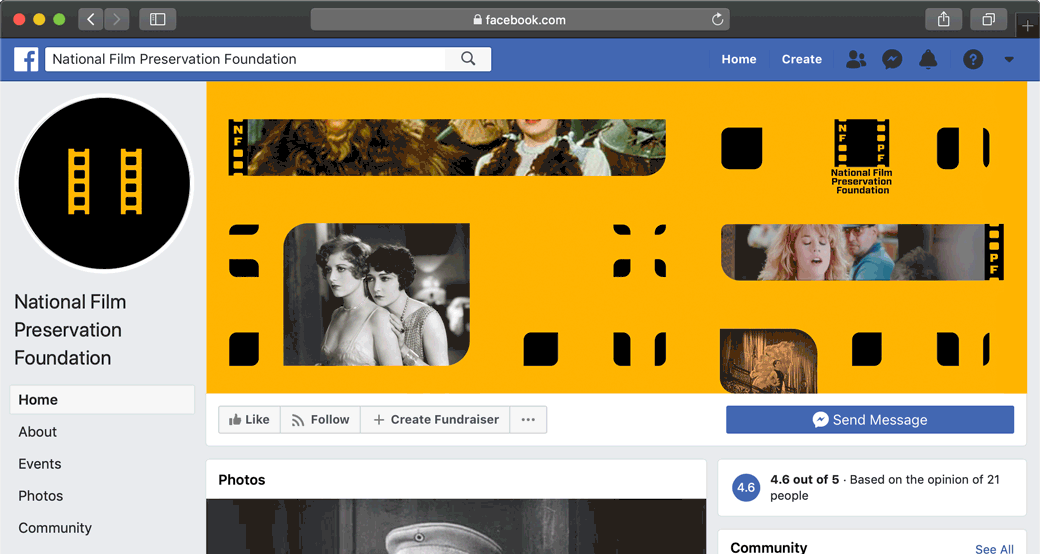 Facebook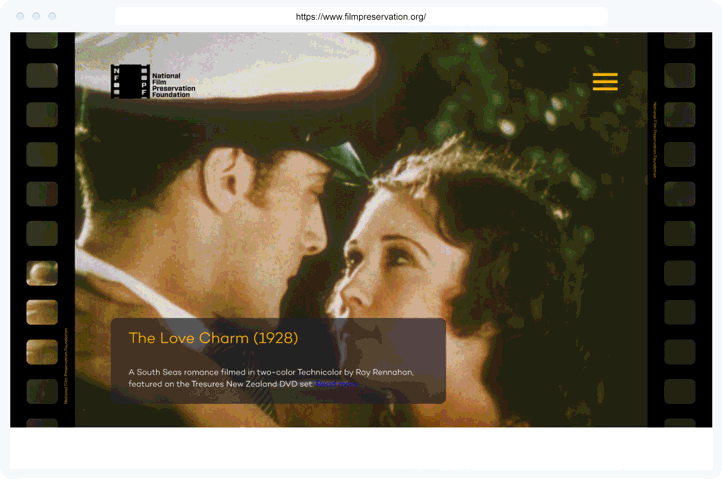 Website
Print
These posters were purposely done a little bit off the style guideline introduced above. My intent is to show the ability of the brand guideline which can flexibly adapt to different styles for further occasions. The brand elements are applied on three posters with three different styles but still leave the featured marks.
Poster series: organization/movie/collection
---
---